"Since the beginning of the pandemic, vinSUITE has been closely monitoring the impact of closures on our clients' DTC operations. Starting in March, we've seen an overall 15% decrease in sales, but the highlight has been a doubling of revenue from eCommerce. With the Thanksgiving holiday already a large driver of winery online sales, we wanted to see if the trend would continue," states Jason Curtis, General Manager at vinSUITE.
Thanksgiving week (Nov. 24th through Nov. 30th) online sales up 78% compared to 2019



Cyber Monday online sales up by 43% compared to 2019



Black Friday online sales up 35% compared to 2019, offsetting a 41% decrease in Tasting Room sales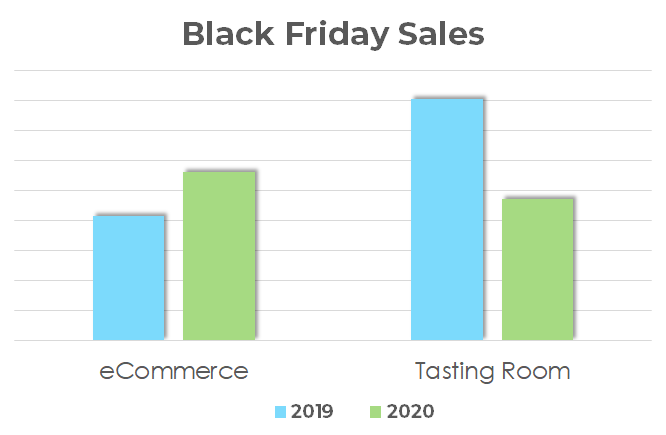 With tasting rooms forced to close or reduce capacity, the focus in 2020 has shifted to eCommerce, and it has proved to be successful. "We were anticipating growth for Cyber Monday, but a 43% increase and a 78% increase overall for the week is impressive. This points to the importance of the online channel and validates the industry's continued investment in robust, winery-specific eCommerce platforms," says Curtis.
In addition, this year vinSUITE clients saw a big spike in online sales for Black Friday, an increase of 35%. And the difference across all sales channels for Thanksgiving week was only a decrease of 1%, bucking the trend of pandemic 2020.
A new trend in 2020 is the expansion of online sales across the week rather than the popular promotional days, Black Friday and Cyber Monday. At the same time, for Cyber Monday, average order amount was down 8%, 2020 vs. 2019, while order volume increased by 55%.