Top 3 Benefits of Email Marketing

1. Boost sales by getting personal
Emails with a personalized subject line get a 26% higher open rate, while emails that include personalized content get a 6 times higher transaction rate.

2. Send the right message to the right subscriber
Segmented email marketing campaigns drive a
760% increase
in revenue and have a
64% higher click rate
than non-segmented campaigns.

3. Get the highest ROI for your marketing strategy
Consumers who purchase products through email spend 138% more than those that don't receive email offers. Plus, for
every $1
you spend on email marketing, you can expect an
average return of $38
.


Why MailChimp
1. Mobile-Friendly and User-Friendly Templates
MailChimp's drag-and-drop email editor allows you to duplicate, delete, and rearrange content blocks on the fly.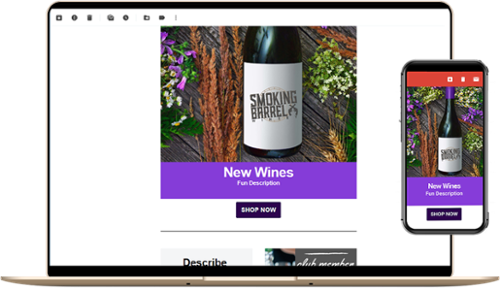 2. Easily send and schedule emails
Save time and communicate when subscribers are listening. By building a marketing calendar to determine your content and promotions for each month so you can send your emails during peak open rate days and times.
Tuesdays and Thursdays tend to be the best days to send emails overall, with Tuesdays having a higher open rate.
Somewhere around 10 and 11 am is the optimal time of day
Check out the full article:
What's the Best Time to Send Email?
Here's What the Data Says (2019)

3. Gain in-depth insights into your campaigns
MailChimp not only offers the top KPI - opens, clicks, bounces, and unsubscribes, but also includes top links clicked, forwards, subscribers with the most opens and social performance for each email.

Our Integration
1. List Sync
Using vinSUITE's List Builder tool, you can create member lists that target specific subsets in your vinSUITE database.

Why is this important?
Targeted emails have a
14.32% higher open rate
and a 100% higher click rate than non-targeted emails.

2. Campaign Viewer
Quickly review your campaign's top KPIs in your vinSUITE admin panel.

Why is this important? Tracking the right metrics will help you improve your email marketing campaigns and achieve your goals.

3. Unsubscribe Management
Verify that unsubscribes have been removed by clicking the refresh button for peace of mind.
Why is this important?
How you manage unsubscribes is important for your customer relationships to build trust.
Learn More